Photopea is a very powerful free Photoshop alternative and it comes amazingly close to providing the same value.
I will break down how to rotate in Photopea into two parts. How to rotate just a single layer and how to rotate the whole canvas.
How To Rotate A Layer Only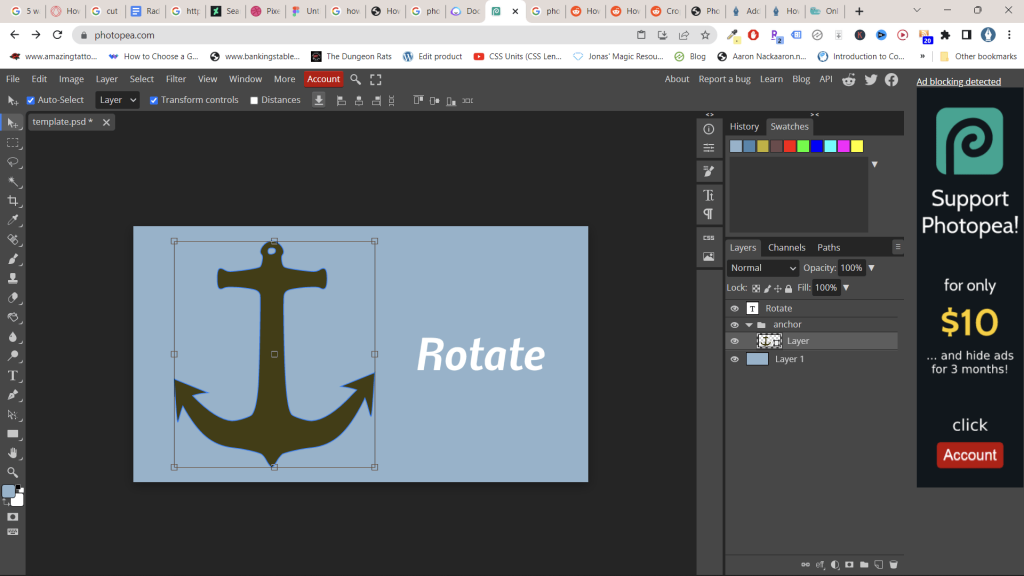 This is quite easy once you know the location of the operations in the menu or the keyboard shortcut.
Photopea makes is super simple by having a "Transform controls" toggle checkbox in the top menu interface. With that toggled on you can select which layer you want to rotate by clicking on it directly in the canvas or in the layers panel.
You could also navigate to the Edit tab in the main menu and select Transform -> Rotate or hit ( Ctrl Alt T ). Whatever is your preference.
They all bring up free transform tool and you will know this by seeing the bounding black box around whatever you have selected, image, drawing, etc. Bring the mouse cursor to the middle of the side or corner and the cursor will change into rotate arrows.
Rotate as needed and click away to lock the object in place.
You will be able to resize the object proportionately as well if needed.
If you want to rotate multiple layers at once that's not an issue. Make sure the layer is visible by clicking the eye icon in the layers menu. With the Move tool ( V ) zoom out and select the entire canvas and anything currently visible will now be selected.
You can also click on objects within layers directly and hold down ( Shift ) to rotate them all at once.
Hit ( Ctrl Alt T ) on the keyboard or tick the Transformation controls box.
Tips on Rotating
If you hold down ( Shift ) while rotating you will be able to rotate in 15 degree increments only, great for a more precise movement when needed.
The small square in the center of the bounding box is the rotation axis. If you move that box around the object will rotate accordingly to that point. If you want to return it to the center then bringing it close will work as it will snap into place.
How to Rotate Canvas
Rotating the canvas only requires one step, from the Image tab in the top menu hover over Transform. This will give you a secondary menu with the options to rotate the canvas 90 degrees clockwise, 90 degrees counter clockwise, 180 degrees, horizontally or vertically.
Conclusion
There you have it, a complete simple guide on how to rotate in Photopea.
Please comment below to let me know if you have any questions or suggestions on other topics you would like covered.
Thank you for reading!